Join the Wolf club for only $229.00
1,000+ 5-star Reviews
Free shipping on orders over $50
Awesome Unique Smartwatch, No More Paying For Earbuds!
Surprise yourself and others with fun, stylish The Cuthwulf V2 2-in-1 smartwatches, delivered at your doorstep from just $229. This version is truly limited.
"These Wolfnotch watches are amazing, got this as a gift from my wife last week. It makes wearing smartwatch fun again."
30-Days Free Return Policy
100% Money-Back Guarantee
Why You'll Love Our Cuthwulf V2?
Everyone loves getting exceptional product. Our smartwatches are the best surprise.
Built-in wireless earbuds

Dial and make phone calls

Customizable watch faces, upload your pictures
Sport mode & health monitor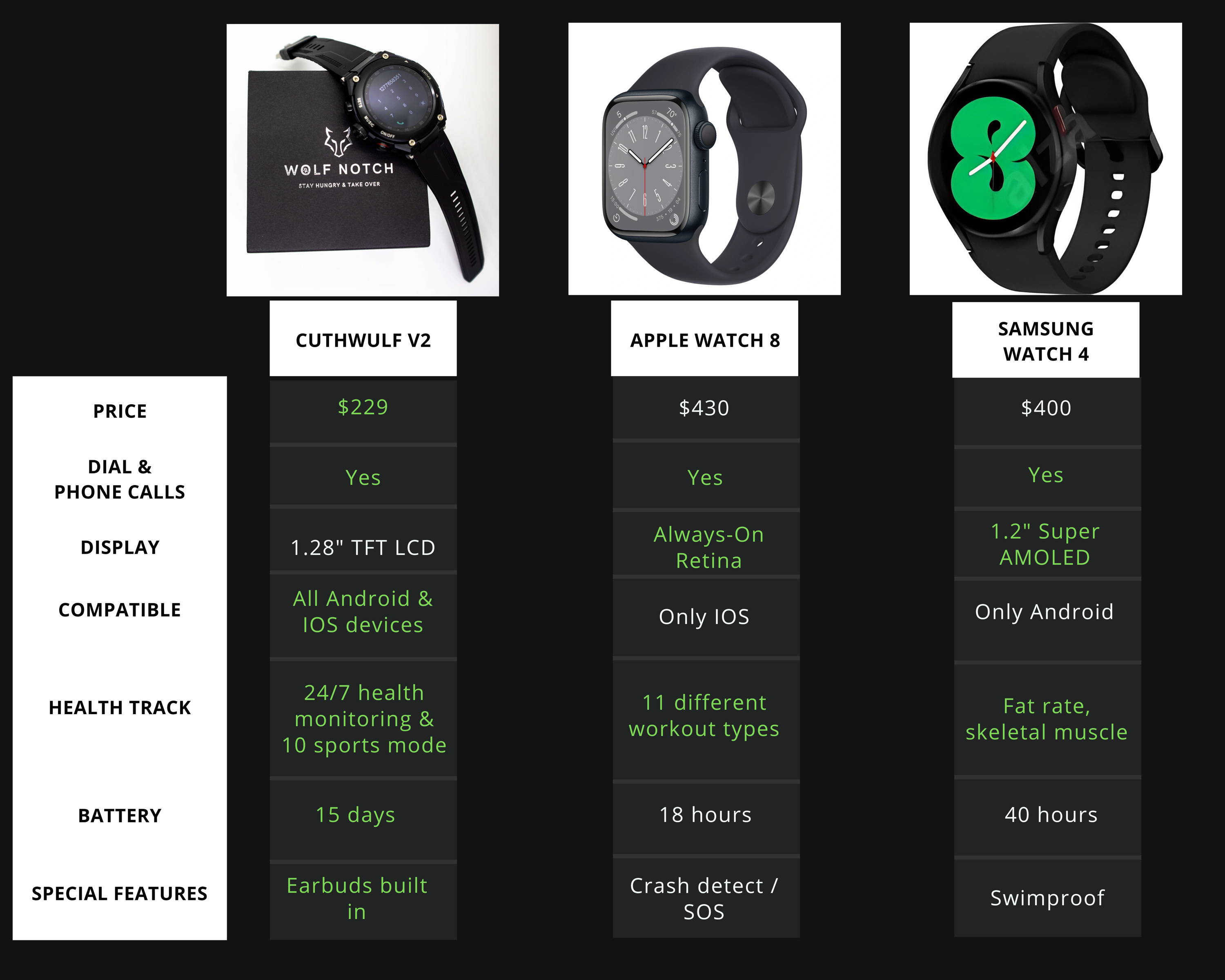 How To Claim Your Cuthwulf V2 Before Stock is Running Out?
Rock the geekiest smartwatch around with Wolfnotch in 3 simple steps
Pick your version and combo, exchanges are always free.
Fill in your shipping address and pay with Card or other payment methods
Sit back and relax, your package is on its way to your doorstep.
Get Ready For The #1 Unique Smartwatch On The Planet!
With our Cuthwulf V2, you'll get joy, happiness, and delivered right to your door.
Loved By Over 1,000 Hands
Rated 5/5 based on 920 reviews
"Best gift ever.The most unique device I have ever seen! This watch is perfect, perfect earbuds too, good sound, good speaker, many features... LOVE ITTT!!!"

"Exceeded my expectations, got it ago two days and am very happy with the purchase. Super convenient to have headphones built into the watch."
Join the Wolf club for only $229.00
1,000+ 5-star Reviews
Free shipping on orders over $50
Got Questions? We've Got You Covered!
Chat with us or send us an email to support@wolfnotch.com
Can it work with iPhone, Samsung,...?
Our product is compatible with every IOS & Android devices.
Can I use the earbuds for calls or are the earbuds just for music?
It works for phone calls as well as media player. It does have microphones so you can even "talk to text", "Hey Siri!". Besides, you can connect the smartwatch and the earbuds to your phone, then play any app (Spotify, Soundcloud, Apple Music,...)
A full charge can keep the smart watch work for a continuously 15 days.
The earbuds have 25mah batteries and can play for a continuously 2.5 hours. And if you want to recharge them, you can just put them back into the smartwatch, and they will be recharged right from the watch.
What payment method do you accept?
We accept Visa, Mastercard, American Express, Affirm and Coin (U.S. Only).
What is the difference between Cuthwulf V1 & V2
We have a comparison here: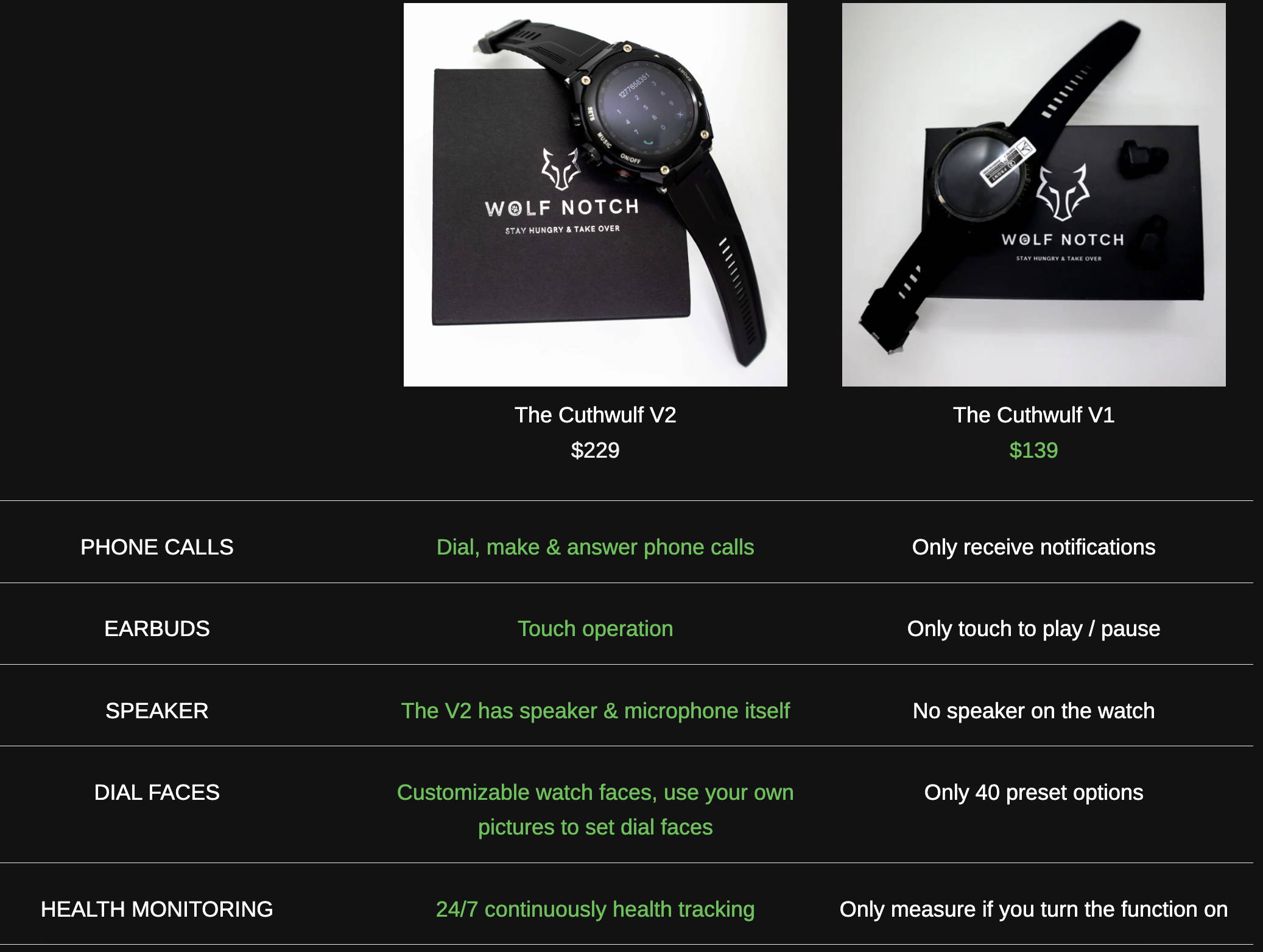 Join The #Wolf Club Today